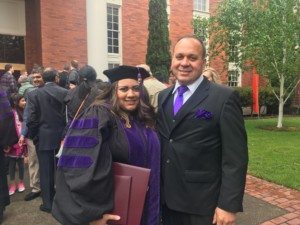 Kristine Osuna wasn't the first in her family to go to college. However, by the time she was looking at colleges, the recession had hit, and like many others across the nation, it affected her family. Kristine's father was the one to find the GMS scholarship, and pushed her to apply for it.   Kristine became the first Gates Millennium Scholar from her high school. That would not have been possible without the encouragement and prayers received from her parents and family. On Father's Day in 2014, Kristine graduated with a B.A. in History and Minors in Legal Studies, Politics, and German. This past Mother's Day, she graduated with a J.D. Degree and Certificate in International and Comparative Law. Kristine's parents have sacrificed so much over the years and she can't imagine a better way of honoring her parents than being able to graduate on both Father's and Mother's Day.
1. Describe your parent(s) and how they inspire you?
Both of my parents are extremely giving and hard workers. My parents were foster parents for about 10 years, and ended up adopting 2 children, my brothers. My parents inspire me because even when times have been tough, they have always provided for our family, and still do their best to help others.
2. What do you appreciate most about your parent(s)?
I appreciate how much my parents have pushed all of us kids to succeed in school and in life. They are always encouraging us to continue moving forward!
3. Reflect on the time you shared that you became a GMS scholar with your parent(s).
My father was the one who found out about the GMS scholarship. He anxiously waited until my senior year of high school came, so that I could apply. After receiving word that I was selected as a GMS Scholar, I could not wait to tell my parents. They were elated. It was then that my parents told me they prayed every night, hoping that I could attend a private university, without having to go into debt. It was such a blessing for both my parents and me.