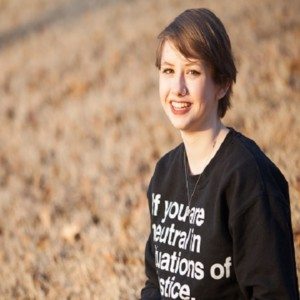 Rachel Watson is currently a junior at the University of Central Oklahoma. Rachel is majoring in History with a minor in Gender and Sexuality Studies. Rachel is also the current president of the Student Alliance for Equality, which is one of the largest LGBT+ and allies on-campus organizations in the state of Oklahoma. Rachel actively serves on the President's Leadership Council, and in a number of civic engagement initiatives in the Oklahoma City metro area.
1. What do you appreciate the most about LGBT Pride Month?
LGBT+ Pride month is an important part of celebrating the past and present of the LGBT+ community. Pride parades and celebration are an important expression of identity that has previously been deeply repressed. It brings the community together in a collective celebration of love and acceptance, which is necessary for LGBT+ health and healing.
2. How do you support/celebrate LGBT Pride Month?
I support and celebrate Pride month by marching with the Student Alliance for Equality in the Oklahoma City and Tulsa parades. SAFE is also holding a candlelight vigil to remember the anniversary of the shooting at Pulse in Orlando, to remember the violence LGBT+ people face, and to remember that we are resilient and can overcome despite all of the trauma we have faced.
3. What do you hope people gain from LGBT Pride Month?
For the LGBT+ people celebrating Pride Month, I hope they gain connections with each other and a sense of community from all the celebrations of our identity. For our allies, and people that are on the fence, or against LGBT+ rights, I hope they can usefully engage with events during Pride Month that teaches them about our community and our reasons for celebrating. We have Pride Month because of the Stonewall riots that were a response to police targeting members of our community for harassment, and the month, while filled with fun parades and other celebrations, should also be a reflection on how far we have come in the struggle for LGBT+ rights and how far we still have to go in achieving equality.