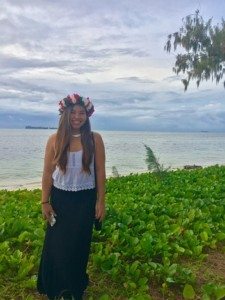 Hafa adai!  Sami is from the Northern Mariana Islands. She received the Gates Millennium Scholarship in 2011, becoming the first GMS scholar from her home island of Saipan. Sami recently graduated with her Bachelor's of Science in Kinesiology from California State University, Northridge. It was there that she watched her very first rugby game, mustered up the courage to try out, and became a division 1 collegiate rugby player.
Currently she is back in the islands working for the Division of Public Health Services in the Birth Defects program. Sami's work has been heavily focused on the Zika virus outbreak and protecting mommies and babies from the possible adverse outcomes associated with a positive zika infection. She also still works as a fitness trainer at the local gyms in addition to developing her own training service, Fineapple Fitness.
A great weekend for Sami is to enjoy the pacific sea with a craft beer in hand and her toes in the sand!
What do you appreciate the most about your Asian/Pacific American Heritage?
What I love about my Chamorro (pacific island) heritage is the culture. I love the way we use and respect our land and sea, our traditions, the way we respect and honor our elders. Culturally we are  raised to be hospitable; always willing to share are food and our stories.
How do you support/celebrate Asian Pacific American Heritage Month?
Interestingly, on island we don't celebrate A/PI heritage month. I even think this is the first time I've heard of it!
What do you hope people gain from Asian/Pacific American Heritage Month?
I would love to see people recognize the distinction between the two ethnic bodies and appreciate the beauty of the array of cultures. Often times I feel that the Pacific Island people get lost in the mix when they are clumped together this way. When I lived in California, I constantly had to explain my  ethnicity and defend my culture as many people preferred to put me in the boxes that made the most sense to them. The pacific island heritage is a vibrant culture with their music, dancing, artwork, and language, which I hope are the largest take aways from the API heritage month!