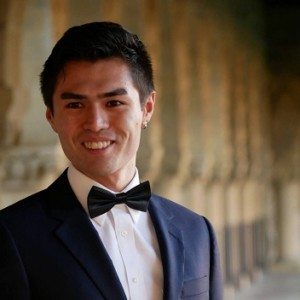 My name is Zane Anthony Zook, a halfy (half Japanese and half American) born in Japan and raised in Bellevue, Washington. My dream is to become an astronaut. For as long as I can remember (I even have yearbooks from back in kindergarten confirming this) I have wanted to go into space. I went through stages, wanting to be a space architect, a space doctor and the like but today I find myself fascinated by the prospect of designing robotics to better suit, complement and aid astronauts conducting missions in space. Unfortunately, the numbers are not in my favor. According to the most recent astronaut selection by NASA, the likelihood of being accepted was a mere 0.6%. To this end, I have done everything in my power to become the "ideal astronaut candidate." At Stanford, I have pursued a Mechanical Engineering degree with a minor in Japanese while taking the traditional set of Pre-Medical courses. I am involved in Japanese cultural groups to maintain that link to part of my heritage. And I have begun a new adventure to climb the tallest mountains in the world, starting with Kilimanjaro which I completed in the Winter. I aspire to become a modern renaissance man, versed in academia, culture, and physical skill. Gates has been a blessing allowing me to pursue this ideal without needing to worry about the financial barrier to my dream. I wish more than anything else that once I am able to see the stars, that I can help people across the world achieve their childhood dreams as Gates has done for me.
What do you appreciate the most about your Asian/Pacific American Heritage?
My Asian American heritage reminds me how many different perspectives, people and ideas are in the world. As half Japanese and half American, I draw pride from both sides despite them being completely different. My Japanese bloodline traces back to samurai and as stereotypical as it may be, the swords of my ancestors have been passed down from generation to generation. At the same time,  my American lineage can only be traced back to my great grandfather, a gun-toting cowboy who rode in from the East and settled in the country in Montana. If I ever need to be reminded why people across the world have differing views and opinions, I merely need to look back at my own mixed background to understand.
How do you support/celebrate Asian Pacific American Heritage Month?
As a member of the Asian American community I support this month as an opportunity for Asian Americans to interact with the rest of the nation. I believe its is important to celebrate our heritage but do so in a way that we include the rest of the nation to celebrate with us. I share and listen to stories about Asian American heritage and try my best to spread a culture of simply celebrating Asian American culture as one of many, many incredible cultures in this world.
What do you hope people gain from Asian/Pacific American Heritage Month?
I hope people gain what I gain from this month. I hope people understand a little more clearly how people all have different experiences and perspectives and that is what makes us interesting. I hope friends share stories and learn about each other's heritage and experiences.